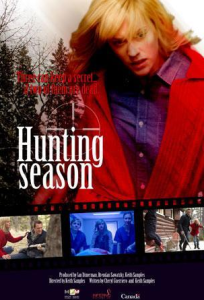 Synopsis:
When Samantha Davis unexpectedly inherits a house in the country, she finds it both a family mystery and a relief from continued pressure to get pregnant.
Despite having been raised by her grandmother, Samantha was unaware that she owned a country house. Her husband Mike wants to sell it but Samantha is curious: why did her grandmother keep a house for more than 30 years? And why did she never mention it to her?
Samantha is pleasantly surprised when she arrives at the house. She begins putting the house in order, doing her best to ignore the creepy sheriff who comes to welcome her and the occasional gunfire from the nearby woods attributed to it being hunting season.
Samantha stumbles across boxes of pictures and home movies hinting at a family history much different than what she was led to believe. When Samantha's research at the local library turns up a tragic story from 30 years ago, it seems to fit her deepening belief that her parents did not die in a fire. She is determined to solve the mystery of what happened in this house – no matter the consequences.
Directed by Keith Samples

Starring Lauren Lee Smith, David Sutcliffe, Max Martini, Shawn Doyle, Chelah Horsdal, Sarah Manninen, Peter MacNeill

Produced by Inferno Pictures and Echo Park Entertainment for Premier Network and HBO in association with Red Arrow International
Music:
Trailer:
Stills: